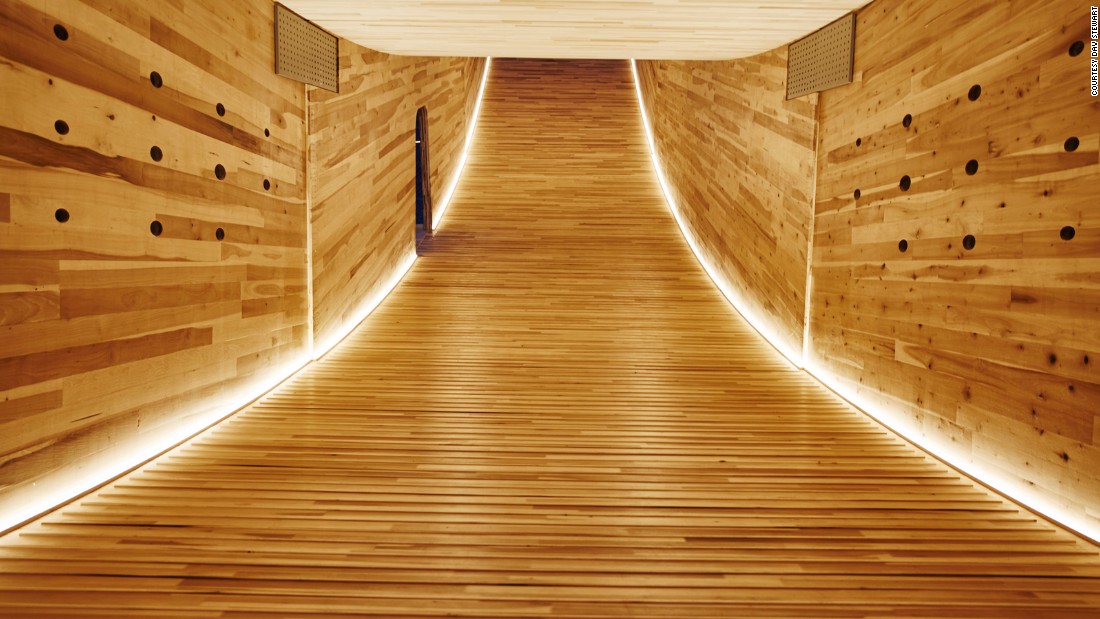 (CNN)If the 19th century belonged to iron and steel and the 20th century belonged to concrete, could timber be the building material of our age?
Constructed out of tulipwood, "The Smile" is a 34-meter long, 3.5-meter high (111.5 feet by 11.5 feet) rectangular tube that curves at both ends into a huge Cheshire cat grin. Viewers could wander through the hollowed interior, while holes in the walls cast light patterns across the floor.
It is the most complex structure ever to be made out of cross-laminated timber (CLT) and, as such, was one of the most exciting installations at the UK's largest design festival.
"It's going to open up a whole new world of possibility," says Brooks. "It reveals the possibility of buildings being completely fabricated in wood."
The secret of strong wood
David Venables, European director of the American Hardwood Export Council, believes hardwood CLT could also help buildings be more sustainable.
"Over one billion cubic meters of this tulipwood material is standing in American forests right now," he says. "If we want to be sustainable we have to use all the material that nature provides."
"Timber construction is absolutely the future," he adds. "'The Smile' is the beginning of something. This isn't the end of the journey."
"The Smile" was on display through October 12 at Rootstein Hopkins Parade Ground, Chelsea College of Art and Design in London
Please Share...We also share...Enjoy